I've started to play with real life drawing. And it sure is harder then digital drawing :-)
And messier too...lol...need a lot to learn, but I think I'm going to enjoy it!
I've learned a lot already by visiting:
http://willowing.ning.com/
This face is done with coloured charcoal pencils
...still learning to do the shading without layers and smudge tool in PSP :-))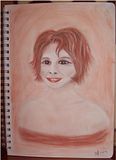 An old face
I've done before. I saw it in the pattern of the couch...lol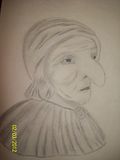 A bird
from a photo...I had just bought some charcoals to try them out.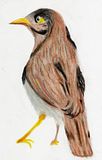 A buffalo
from a wooden sculpture...another one done with charcoals.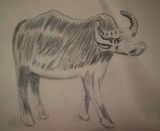 A Blue Bird
this one done with charcoals on a black pad.
A Vase with flowers
this was a challenge to make the vase look like glass...it looks better in RL without the flash!.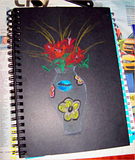 Trying to make a water based painting
this one I liked doing, because you can be messy :-).